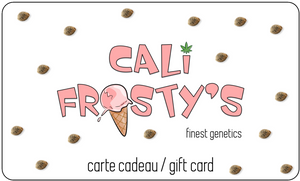 The e-gift card is now available at Califrosty's and is usable in our online store only !
You can treat yourself well or offer it to a friend for a chosen amount of 10€ , 25€, 50€ ou 100€ 🙂.

It will be stored in your e-mail inbox 😉.
If you have an iOS device, you will be able to add your gift card to your Apple wallet through the app and check your balance.
Do not wait any longer, the gift card will be active for 2 years after the purchase.